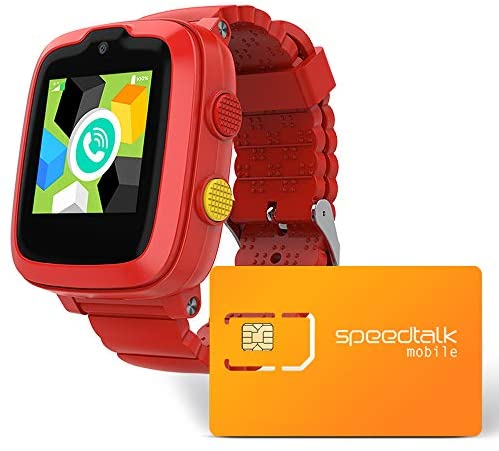 4G Kids Smart Watch – Ready Out of The Box – with Preinstalled SpeedTalk Mobile Smartwatch SIM Card – Remote Monitoring/Video Call/GPS Tracker

Price: $71.40
(as of Jan 25,2022 13:23:12 UTC – Details)


1.Reliable 4G Technology. Watch supports 4G network to ensure seamless, high speed connectivity. Offering a competitive service plan packages so you can use the features your watch is offering (calling, chatting, video calling, GPS location etc.)
2.Remote monitoring Through the APP. Parents can monitor the child's location in real-time
3.SOS for help. The child could press on the Power Button to activate SOS function.
4.Built-in Camera. The watch allows your kid to take photos and share them with you to your mobile app.
5.Chatting. The watch can receive audio, chat messages, emojis & photo, as well as sending voice messages.
6.Smart Watch Phone. Use as a standalone phone to enjoy a 2-way calling with parents. Make sure to use the included SIM card to effectively maximize functions.
7.Answer and Hang up the calls. Kids can answer and hang up the calls directly on the watch. You can add 30 phone numbers on App Family list and then sync to the watch.
8.Safe Zones. Parents can customize security range on APP, when the child is beyond the safety zone, the APP will receive the alert immediately. (The minimum safety area radius is 500 meters.)
9.Location History. The watch can track movement route of the preset periodic within 30 days, parents will have an idea on your kid's walking routes within a month.
10.Do-Not-Disturb period. No worries about disturbing the child while in class, parents can enable Class Mode function on the APP. During the period, the watch will automatically block all phone features except for SOS function.
11.Splash Resistance. Have your child enjoy their childhood and let them play around water with confidence
DEVICE SPECIFICATIONS:
Water-Proof: IP67
Location Type: GPS, WIFI, LBS
Sensor: G-Sensor
Charging Port: Magnetic Charge
Battery Capacity: 600mAh
Network: 4G

Plan starts at only $5/month. The EmojiKidz 4G smartwatch comes preinstalled SpeedTalk Mobile Smartwatch SIM card. Activate service via emojikidz site.
Remote monitoring Through the APP. Parents can monitor the child's location in real-time.
Built-in Camera. The watch allows your kid to take photos and share them with you to your mobile app.
SOS for help. The child could press on the Power Button to activate SOS function.
IP67/SPLASH RESISTANCE: Have your child enjoy their childhood and let them play around water. The EmojiKidz watch is splash resistance, so your child can play around water with confidence.