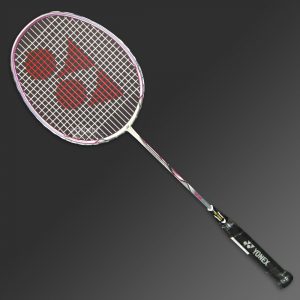 Yonex have been making top notch badminton rackets for a long time. The Nanoray 10F is perhaps one of the most common rackets for players. It has a light head which comes pre-strung, which is what the majority of players want – unless you're turning pro. The frame is made of graphite which is 27 inches in length. Amazon delivers this product with a ¾ cover that fits the design nicely. In the past, Yonex have been criticized for creating ugly designs. However, I feel like that they have turned it around with a nice blue simple design.
PROS
At a first glance, the length will be fantastic for most new players – it really has an excellent reach. It is extremely lightweight (weighing less than 90 grams) paired with some serious power.
After some rigorous testing (mostly playing) we found this racket to be the ultimate beginner racket and even great for experienced players who are on a tight budget. It comes in at a very cost effective price that is impossible to argue with. Many of our users even bought two of these, incase of strings snapping.
You'll most likely find that the racket has a brilliant sweet spot, for anyone wanting to hit the smashes. As long as your technique for smashing is of an adequate standard, smashing with this racket will be of ease. The frame is flexible but tough, which will last the normal player many years to come.
CONS
There is really very little to fault with this gem of a racket. If you're wanting to generate some serious power on your shots or take your badminton to a top level, then perhaps this racket isn't for you. Try the Arcsaber or Voltric 80. But, if you're a beginner or simply enjoy a game of badminton, then this racket is for you.
Defensively speaking, you might have a few problems. It's considerably slower than the higher end rackets, as you most probably expect. You might feel a little drag, but it shouldn't be too much of a problem for most considering how lightweight the racket is.
You might also find that the grip wears down have a lot of play. The grips on the cheaper rackets aren't a great quality. Some of our users reporting thinning of the grip after a few months. Again however, it's hard to complain since the price is so cheap.
CONCLUSION
Yet again, Yonex continue to impress with their extensive range. This racket will not disappoint the average player; it's light, strong, durable, versatile and aesthetically pleasing. The color won't change your play style or performance, but it's always pleasant having a nice looking racket.
Chances are, most players will come across this gem at some point and there's plenty of reasons why. You'll be able to hit some beautiful shots with this thing and who doesn't want that?
Here at Sport Briefing, we love this racket and it will always be the one we recommend to new players entering the sport.
TOP 10 BEST SELLERS in Yonex Nanoray
Bestseller No. 1
Bestseller No. 2
Bestseller No. 3
Bestseller No. 4
Bestseller No. 5
Bestseller No. 6
Bestseller No. 7
Bestseller No. 8
Bestseller No. 9
Bestseller No. 10
Yonex - Nanoray 68 Light Rudy Hartono Series NR-68LITE Black Red Badminton Racket (5U-G5)
Isometric - The square-shaped ISOMETRIC frame shape is designed to keep vertical strings at a similar length, as well as the horizontal strings to produce an expanded sweet spot in all directions.
Aero-box Frame - Aerodynamic contouring of the top of the frame minimizes air resistance so air flows faster across the curved surface during the swing, accelerating head speed and transferring more speed and power into hits. this construction tapers into the YONEX Box Shape midway through the frame for high stability, low-torque performance and more accuracy.
Built-in T-joint - Moulded deep into the layers of graphite where the frame connects with the shaft, the YONEX Built-in T-Joint creates a durable and high-strength one-piece frame that is torque-free.