Best Badminton Racket Reviews
With there being such an abundance of products on the market, selecting the right racket for you can be extremely difficult. That's why we compiled the best badminton racket reviews to help you decide. We tested the rackets by allowing professionals and beginners to give us their thoughts on all the best selling rackets in the market. We compared the results to compile this buying guide for the year of 2017.
Best Badminton Racket Table Comparison
Choosing a badminton racket
People often rush the choosing process of racket. Picking the right racket requires a lot of thinking. Many players often look either for the brand or price and base that purchase on that decision. While brands are a good rule of thumb, it won't necessarily mean that you're buying the best racket for your money. Each racket is designed for different types of play and different types of skill level. It's worth remembering, to pick out your budget range before you decide to buy a racket. This way, you know which price look out for and you won't spend too much money.
Typically, most players will opt for the Yonex brand. With Yonex, you know you're buying good value product. In recent times, Li-ning is becoming much more popular especially with the Asian players. Also, Babolat are starting to enter the scene with their impressive technologies that they use for tennis rackets. With so many brands, new and old, it makes picking the racket ever so difficult.
Heavy Head Racquets
Pretty much all professional players, use head heavy rackets. Heavy rackets are pretty self-explanatory, the top is heavier so you can get more power on your shots from the back of the court. These types of rackets are ideal for smashing and clearing. You should take a head heavy racket if your control is already of a high standard and you want the power to destroy your opponents.
Stiff frames suit player's style that are quite physically strong, which will provide much better control. A flexible frame will help create more power for players who aren't quite as strong as some of the players. It's all about finding the balance suit your needs.
Head Light Rackets
These types of rackets are ideal for mixed doubles are normal doubles. These lighter rackets give you great speed through the air for fast play and especially the net play. Most people play at club level with doubles and mixed doubles, so the likelihood is that a headlight racket might be beneficial to most people.
These rackets are very fast and aerodynamic and are perfect for the front and the midcourt. They are also excellent in defence. However, if you take a shot from the back of the court or doing smashes, you may see a lot of lacking power. It just depends on what you want from your racket. Within this category, just like before, a stiff frame would suit a physically stronger person by giving you more control. A more flexible frame would allow more power to be created for players that aren't quite as strong.
Even Balance Rackets
These rackets are ideal for players that have overall and all-round game or a player that is wanting to develop an all-round game. If you're a player that wants to be a jack of all trades, then it would be a good idea to try an even balanced racket. The smashing ability is still great due to there being enough weight in the head and great for clearing. If you're person that suffers with tennis elbow or any arm difficulties, or disabilities, then these types of rackets are ideal for you because there is no drag when taking shots.
Top Badminton Rackets
Best badminton racket for beginner
Yonex Nanoray 10
The Nanoray 10 is Yonex's entry level badminton racket. Weighing in at less than 90 grams, it's the ultimate lightweight racket. It's quite long in length, thus meaning it has a fantastic reach, which is something newer players want until they build up experience. Since they're so cheap, it's quite often players buy two of these in case of strings snapping or damage to the frame.
For the price, it has a brilliant sweet-spot for control and smashes. Considering it's such a cheap piece of kit, smashing is surprisingly adequate. Though, if you're wanting to truly blow away your opponent in the power department, then you may need a racket of higher quality. The frame is definitely strong and durable, but still has a flexible edge to it.
It's definitely a racket for beginners or perhaps people who only play a game or two. Some users found the grip to be quite delicate and tore quite easily. Though, it's hard to complain about this racket considering how cost effective it is.
Read Full Review    Check price on amazon
Yonex Voltric 5
One of the most popular Yonex rackets on the market, from the impressive Voltric range. The range offers a beautiful combination of speed, power, precision and control. Just like the majority of the rackets in the range, it has a heavy head. If you're like me and love hitting with head headed rackets, you'll enjoy this. For the price, it really packs a punch in the power section.
Clears were absolutely effortless with this racket. I tested in both doubles and in singles, throughout tournament play and felt like great quality racket. I really enjoyed playing with it and the price is even more enjoyable. Great for beginners or even players with a higher skill level. It's a good all-rounder that is great at clearing.
Perhaps it comes slightly short at net play, with it not being a smooth through the air. I suppose this would be the only niggle. While it is a decently powerful racket, it's nothing compared to the VT80, which completely blows it out of the water. If you're trying to decide between the Nanoray 10 and this, definitely choose the Voltric 5.
Read Full Review    check price on amazon
Best badminton rackets for intermediate player
Yonex Voltric 7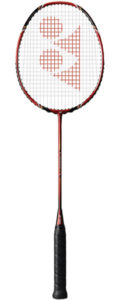 Another specialised racquet in the Voltric range. It utilises the tri-voltic system and an aerodynamic design, to makecutting through the air such a breeze. While most players don't care about the aesthetics of their racket, it definitely is attractive. Of course, the appearance of your racket won't make you win points, but it's a nice feature.
Now to the nitty-gritty, it's a racket that seems to up player's games dramatically. With its head heavy side, it makes power play comfortable which many of our users were lacking. If you're wanting to really up your power shots but don't have a lot of money to spend, this would be an excellent choice. Most players find that their shots definitely increased in quality.
Rallying and net play were relaxed. It has a decent amount of control, exactly what you'd expect for the money being spent. Due to its air resistant design, the racket's defence was a lot better than the cheaper products in the market. Smashing feels effortless.
It doesn't compare to the Arcsaber Z (which we consider to be the best badminton racket) or the Voltric 80, yet it's still fine equipment for badminton players. The price is slightly more than Nanoray or the VT5, but it's more than justified.
Read Full Review    check price on amazon
Victor Brave Sword 12
A while back, this racket had an enormous amount of hype and a lot of the professional players were using it before release to the public. After all the buzz, it was finally released to the public.
I was lucky enough to get my hands on one after release. It definitely lived up to the hype. It's such a lovely racket that is so evenly balanced, it's obvious that great minds designed it. Its sturdy design, yet flexible.
Powerful shots were seriously easy since it cuts through the air effortlessly. Some of our users asked if this racket would be a decent choice for people with tennis elbow or arm problems, and the answer is yes. It's smooth and light.
The defense is excellent. Dropshots were a delight to play. It's so light and relaxed to manoeuvre. Simply speaking, it's good for all parts of the court. Clearing was fun to do with this thing and smashing was even better. Victor have definitely impressed the world with this piece of kit.
This is definitely for intermediate players. Beginners may find it a little too expensive for their liking. It's not that cheap, but definitely makes up for it performance wise. I'm really not surprised many professionals use it.
Read Full Review    check price on amazon
Best Badminton Rackets for Professional
Yonex Voltric 80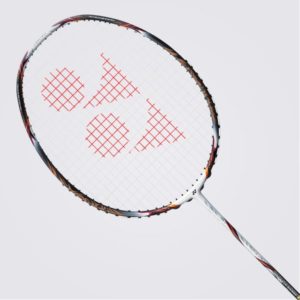 Built from graphite and tungsten, it's a power-house of a racket. The red graphics are flashy and the cover is even flashier. Yet again, Yonex have utilized their impressive tri-voltage system to create a racket that is a show stopper.
Many experts recommend a tension of 27 lbs for the VT80. A string tensions that I think will appeal to the majority of players. Due to how much I enjoyed playing with this racket, the testing process was quite vigorous and I played some seriously long matches with it.
It's not that evenly balanced, which may dissuade some players and a little on the heavy side. If you're used to playing with the Nanoray for example, this will quite a shock to the system, but you'll quickly adjust as any player does.
The price tag is quite hefty. I'm not surprised many professionals use it however, as it really dominates the market in terms of power and control. Both are so beautifully utilized with this thing, it makes playing even more enjoyable than before.
Sometimes, I felt like I was blowing my opponents away with power shots I didn't know I was capable of. It's a joy to use. Who doesn't enjoy playing your opponent out of the court though? Out of all my badminton racket reviews, this is one of my favourites.
It really is a powerhouse, only falling slightly short of the Arcsaber Z slash.
Read Full Review    Check price on amazon
Yonex Arcsaber 002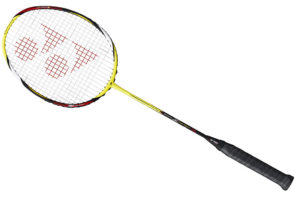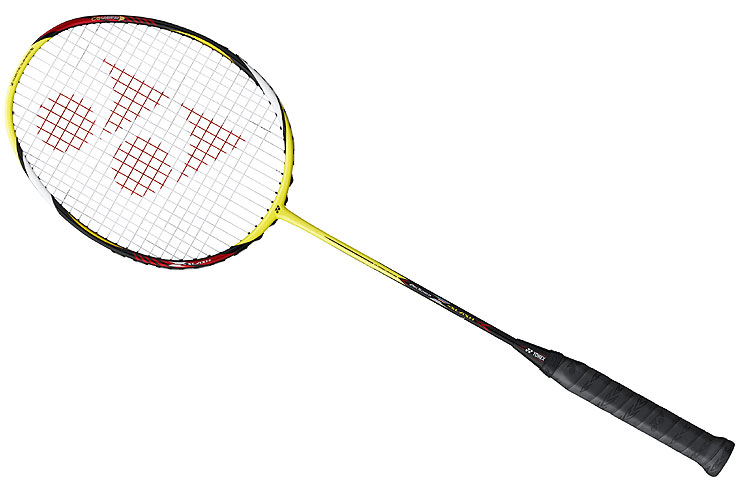 I feel like this was the most eagerly anticipated badminton racket ever. Before its release, there was so much buzz on
Without a doubt, it's the best racket on the market. It ticks all the boxes and more. The power from this thing is a piece of beauty. I now possess rocket speed shots. It's a heavy racket which is an absolute must for people serious about power shots. The extra weight at the head really makes a massive difference.
What really impressed me, was its ability to control the shuttle like no racket before it. Control and finesse often get overlooked in racket choosing; everyone wants a powerhouse.
While this is the powerhouse you've most probably been looking for, it has the control too. It's swift and feels as if it caresses the shuttle. Net play was amazing to play with this thing, its aerodynamic design slices through the air.
It's quite difficult to use at first, especially if you're more comfortable with a lightweight racket. I recommend everyone step out of their comfort zone though and try something that will change your game forever.
Rallies were ridiculously intense; the power is truly incredible sometimes. Ever since I first purchased it, it's become my first choice racket for tournaments. While a racket will never make you good at badminton, I think this is the closest thing to perfection and the best badminton racket. It's a work of art.
Read Full Review    Check Price on amazon
Best Badminton Racket Brands
Yonex
Yonex is perhaps the most reputable brand in the world badminton. Many of the professional players choose to use these rackets. The best players in the world trust Yonex. By using the latest technology available to them, they make their rackets better than everyone else.
Their rackets are the some of the most premium prices in badminton. However, they also offer many affordable options for beginners and intermediate players. They sponsor the all England badminton team and are a massive innovator of badminton equipment.
Roughly speaking, 80% of the top players in the world use Yonex rackets. I think this speaks for itself. If you are looking for the ultimate racket, then perhaps the fault Arcsaber Z-Slash is the answer to that question. Yonex specialize in power, precision, efficient sweet spots, control and finesse. They also produce other equipment like clothing, shoes, and many bags that are popular amongst players.
Li-ning
Li-ning offer quality rackets that uses premium materials. It definitely is a high-end brand that the Chinese national team often use. Their range offers excellent technology, seriously light frames, strong stability and excellent aerodynamics. Many of these rackets are geared towards the intermediate and professional players as they can be quite costly and difficult to use for beginners.
Babolat
Babolat are more famously known for their extensive range of tennis equipment. Rafael Nadal is a Babolat user. Their rackets are extremely durable and very well made. For these reasons, they are often picked for the professional players as they definitely fit their needs. Their rackets are powerful, strong and carefully accurate. If you're a fan of their tennis range, then you should definitely try a Babolat badminton racket, as they definitely deliver the quality product across sports.
Ashaway
Ashaway specialize in super lightweight rackets that are easy for everyone to use. Their innovative technology is that are very high standard. The extreme tension frame allows so much higher string tensions, for those players that like their shots powerful. For any player that wants a really customised string tension, then Ashaway badminton rackets are for you.
Yehlex
Yehlex are very budget friendly brand of rackets. They are very popular brand, especially in Asia. As a producer of training rackets, they are good to use while practising especially for power shots and net play. Beginners and intermediate players should look out for this brand, as they could be the perfect suit.
Adidas
Adidas are probably one the most well-known sports brands in the world. They specialise in everything like shoes, clothing, football, tennis, and in our case, badminton. The series of badminton rackets are designed for absolute power combined with a high playability factor. They produce all-rounder racket style good for any level of skill. Their range is towards the upper end of costs, so it will attract more experienced players.
Carlton
Carlton were one of the first brands to introduce a metal racket into the badminton world. Today, they are still producing innovative technology that is designed for high levels of play. Their rackets appeal to any skill level, whether you're a beginner or professional. If you like powerful rackets, then Carlton have an extensive range that will definitely meet your needs. Older generations tend to opt for this brand due to the familiarity and trust.
Mantis
Mantis are a premium range of badminton rackets. They specialize in carbon weaves and extra durable frames that are sufficiently aerodynamic. Mantis is really focused on the quality of the frame and that is really obvious once you play with one of the rackets.
Prince
Prince use similar technology for their badminton rackets that the use for the tennis rackets. As you probably know, the technology they utilize in tennis is a very high level and many professionals tend to use this brand. With their rackets, you will always find a very durable frame. In the world of badminton, you will often see Prince Rackets used, which I think says a lot about the brand.
How to choose badminton racket
Do I need a new racket?
Often, players develop this idea that they need a new racket to improve their game. Let's face it, people love shopping and love buying new things. However, you need to remember that your racket on its own, will not improve your badminton game.
It's you who will need to improve your ability by practice and practice and practice. If you're wanting to really improve your badminton game, then perhaps you should hire a coach or play with players that are much higher level to you.
On the contrary, if your racket is old or worn, it might be a good idea to buy new racket.
What do I like about my current racket?
When buying a new racket, a good rule of thumb is to think about what you already like about your current racket. The reason being is, that this would give you a guide on what racket you should purchase in the future. If you like a stiff flex, then definitely look out for stiff frame in your next purchase.
Of course, don't be afraid to test other rackets if you get the chance or try your friend's racket. You may realise that there was something definitely missing with your current racket that you really want in your game. Remember, everyone has different qualities and will have different characteristics that they want in a racket. And think about your ideal head weight and full weight of the racket that you want. Think about what string tension you want in a racket.
Which areas of my game do I want to improve?
If your current game is lacking, you need to think about how it can be improved and if the racket can improve that specific area. Would a change of racket really improve your game? There's a good chance it could do and if so, then take a racket that shoehorns your current style of play. If you're not getting enough power on your smashes or finding it difficult to clear, your ideal racket would be a heavy headed racket. It's all about identifying your weaknesses and how you can improve those.
Will a new racket change my style?
If you opt for a head heavy racket due to your overhead not being powerful, then you might find that your defense and net play is lacking due to the slower racket. You simply need to think about that and understand before you buy a new racket. Many players don't take this in to consideration before making an important purchase. You are struggling with the weight of your new racket after long matches, try doing some arm exercises to improve your upper body strength.
What badminton racket should I buy?
Obviously, the cost of a racket is relative to its quality. While a cheaper racket is perfect for beginners, the quality will not be good enough for intermediate or seriously experienced players.
It's worth remembering that it could be a good idea to buy two or three rackets if you can afford it, once you've found the perfect racket you. The reason being is, once you've found that perfect racket, you can buy a couple to have spare in case of strings snapping or frame damage. I've lost count of how many times I've damaged a frame in a collision with my doubles partner. It happens too much!
Not a single player or coach can tell you what racket you should buy. Everyone has different strengths and weaknesses in their game, which will need different types of rackets to suit them. Having said that, definitely try your friends rackets out to see if you like them. Read the questions above and hopefully you can find the perfect racket below.
Best Sellers in Badminton Rackets
[amazon bestseller="3419571″]