Best Squash Shoes
It's been on our mind for a while, to come up with a comprehensive list for the best squash shoes. We decided to select shoes from all of the favourite brands, hand them over to the experts and let them tell us what they think. Hopefully, this guide will help your next purchase much easier.
Dubbed as being the bestselling brand of squash shoes in the history of squash, the Prince NFS Indoor Footwear will not let you down whether on or off the squash court. Having been the go-to shoe of choice for a majority of players who actively appreciate the game of squash, the quality of this pair of shoes can only be rivalled by few in the current footwear market and many professional players say these are the best squash shoes.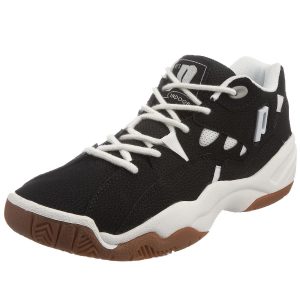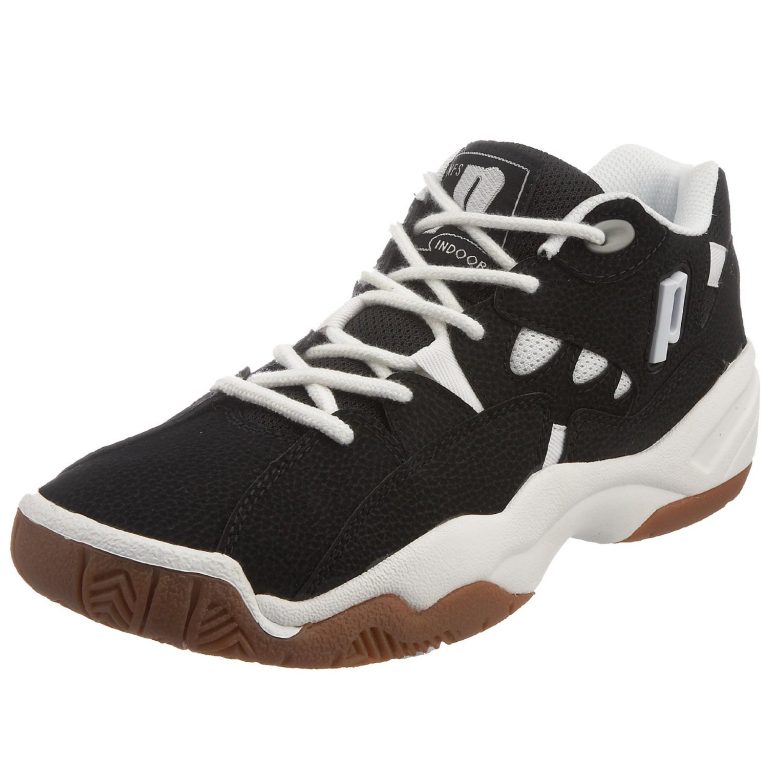 The squash court being rather smooth, when compared to other types of courts used for other sports such as tennis, chances of slipping are usually very high. Prince NFS Indoor Footwear solve this problem using the outsoles. Bearing an outsole tread pattern designed for its multi-traction properties, maximum traction is a sure bet while using this brand of squash shoes.
An added advantage to these outsoles is that of leaving no marks when the squash player makes abrupt turns on the squash court to get to those weird angle ball projections.
Feet have to breathe. This is a given requirement for any sports-oriented person. Shoes which are well circulated with air ensure for an athlete's healthy feet, reduced chances of injury to their precious feet and reduction of chances of smelly feet. Prince NFS Indoor Footwear have included a professionally designed breathable mesh tongue just below the laces to cater for this basic requirement. This will leave you with the peace of mind that your will breathe and that you will also be able to breathe whenever you take off your shoes after practice.
Non-removable sock liners found in a majority of indoor footwear has been a cause for a buildup of sweat and dirt inside the edges of the inner shoe. This is, more or less, one of the leading causes of smelly feet which is rampant among athletes in all sports requiring shoes. To curb this rising statistic, the Price NFS Indoor Footwear brand contains a soft and removable foam rubber sock liner. This ensures that shoes can be cleaned thoroughly and can be replaced easily when a pair of these sock liners wear out courtesy of your diligent training.
Shoe collars have always been a topic of discussion, especially when it comes to the level of comfort. There have been a lot of complaints regarding the level of discomfort, and in extreme cases, pain associated with poorly made shoe collars. Squash is a game which requires the player to become agile and flexible to ensure split second turns all in a bid to get to the rubber ball using your racquet to secure victory.
These turns coupled with poorly designed shoe collars will always be a recipe for squash disaster. Lack of adequate shoe collar padding is a common occurrence in a majority of footwear but the Prince NFS Indoor Footwear have more than enough padding to ensure perfect turns and twists while 'squashing' that hollow rubber ball.
These shoes boast of being generally lightweight ensuring that your steps are as dainty as that of a ballerina yet quick and agile as that of professional squash players to secure victory and adequate training. Go for quality, buy for the best. The Prince NFS Indoor Footwear brand will level up your squash gameplay.
With a majority of sports footwear makers targeting ladies as squash has continuously grown into a greater sport (Note: Greater since it has always been great), men's woes arising from generally non-revolutionary sports footwear to cater for the modern man have been neglected. This is no longer an issue due to the entrance of a line of squash shoes targeting just men.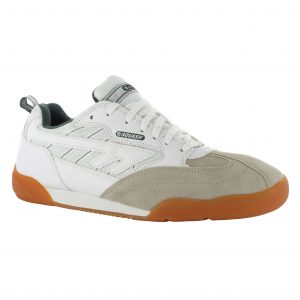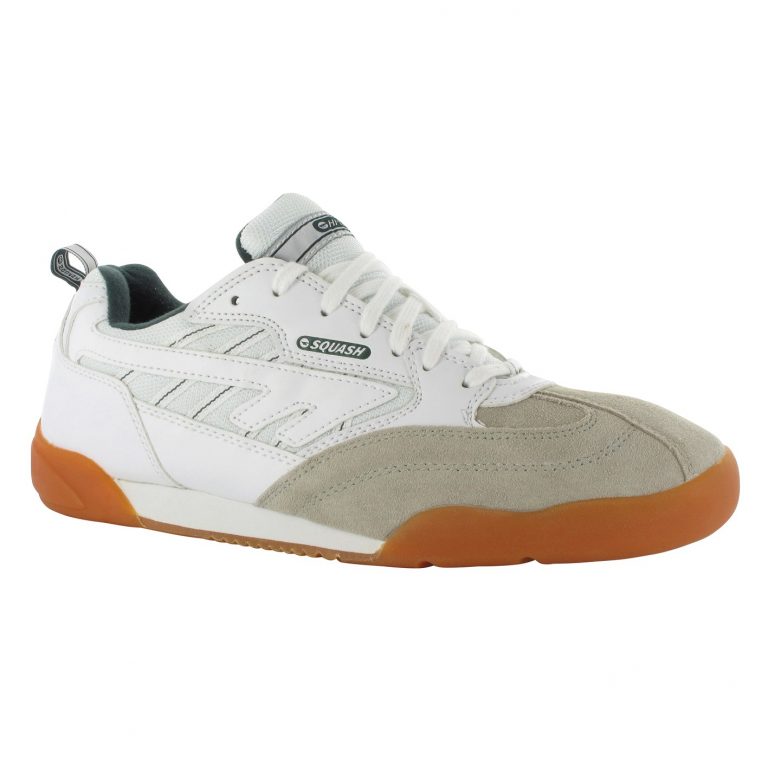 The Hi-Tec Squash Classic aims to be the go-to brand of squash footwear for any man who is serious about the game of squash. By merging past footwear trends with modern technology, Hi-Tec has been able to mold a pair of shoes which boasts not only of ingenuity, but also the allure of years passed in the lifetime of squash.
Due to our physiology, men generally sweat more when compared to our capable counterparts. This has resulted in years of buying extra cans of disinfectant sprays and body deodorant all in a bid to reduce and mask the nose wrinkling effects of our manly musk. The Hi-Tec Squash Classic shoes have been equipped with a breathable mesh directly under the shoe laces to ensure shoe breathability for our masculine feet. This, in turn, will ensure that we spend less on those risk aversion products and spend more time thinking on better strategies to win our squash games.
The foot arc is a very special section of all our feet. The collapse of this part of our feet can lead to discomfort and back injury. This is caused by inadequate support for our mid-feet sections. Hi-Tec Squash Classic shoes has been able to reduce chances of such injuries by including webbing support overlays specifically targeting the middle parts of our feet.
Slipping on the squash court is an almost rare but disastrous occurrence. The aftermath of a simple slip can end one's squash career in an instant. Hi-Tech has been able to greatly reduce chances of this happening by introducing a heel lining feature with the sole purpose of making these shoes generally anti-slip.
What better way to improve turns and twists on the squash court than by including a shoe collar made from a super soft material known as Nylex? This feature will ensure that the shoe collar will not have any abrasive effects on your ankles and motion while wearing these shoes will be silky smooth at the least, some of the best squash shoes use this material.
For increased comfort and stability, a sock liner made of extended rubber which is die cut has been included within these shoes. This greatly increases shock absorbance making these shoes a must have for any man who would like to reduce chances of knee and lower back pain arising from years of squash playing.
What better way to say 'Manly' than using leather and suede? Leather, being a material of durability, and suede, being a material of class, have been used together in the making of these shoes to better appeal male squash players.
The Hi-Tec Squash Classic shoes for men will ensure that while playing the games you love, squash, you will be walking in the footsteps of the players of old while embracing a future of a gentleman's style and class.
magine yourself walking into a well-lit and airy room. An air of victory all around you as if welcoming your win to come in a few moments. The sharpest turn as you warm up for your game leaves with it the lovely sound of squeaking rubber on the floor. The ever satisfying feeling of hard work in a gentlemanly manner resounds from the four corners of the sizeable, yet majestic battlefield – the squash court.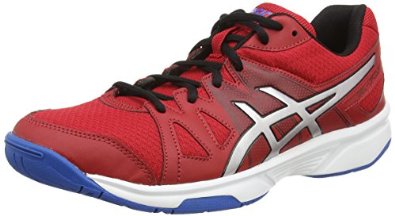 Asics has, yet again, been able to bring out the glory of the sport known by many and loved by all through a subtle, yet key method – shoes. Playing Squash is unimaginably brutal on one's feet without proper footwear. This is where Asics has excelled by providing their new Squash shoes dubbed the name ASICS GEL-BLAST 5 Indoor Court Shoes.
Basking in the air of innovation, these Squash shoes are no ordinary indoor court shoes. Based on cutting edge design, these shoes will ensure the comfort your feet while increasing your general stability while making those abrupt turns when playing Squash. These must have attributes have been made possible through Asics Flexion Fit Construction design. On top of that, this method of shoe construction ensures that the shoes will fit you smugly which is a feature desired among all Squash players.
As a countermeasure for healthy knees, Asics has included an Ethylene-vinyl acetate sole in each shoe. Commonly referred to as EVA in the manufacturing industry and also known as foam rubber or expanded rubber, this compound is highly acclaimed for its shock absorbing properties. These properties will ensure that your beloved knees and feet will be protected from impact pressure with the squash court floor. As a result, persons of all ages will be able to play squash without fear of long term knee pain.
Having studied the human body in motion, Asics, in relation to Squash, decided upon including an extra layer of cushioning in this line of shoes. Addition of extra cushioning would be argued by some as increasing strain on our leg muscles from added shoe weight. This however, is a disadvantaged that has been solved by Asics in the use of Solyte Midsoles. This type of midsole has replaced the traditional Asics SpEVA Midsoles (made from Foam rubber). These are incredibly lighter than foam rubber yet offer benefits including, but not limited to, durability, shoe responsiveness and extra cushioning.
Opposite from other manufacturers, Asics adopted a new philosophy in shoe making in this brand. Rather than following the traditional symmetrical lacing found in a majority of Squash shoes in the market, Asics, through strenuous research, decided upon using asymmetrical shoe lacing. This is in-line with the fact that our feet are not perfectly symmetrical. By doing this, our feet are allowed to follow their natural movement reducing chances of irritation while running across the court.
These shoes are ideal for any and every Squash player as it will generally enhance your posture and comfort. Coming in the classical Bruce Lee colours of Yellow and black combined with cutting edge footwear technology, you are sure to become Bruce Lees of the squash court… with lots of practice as always.
Having been in the footwear market for a while now, the Dunlop company has moved towards offering targeted sports footwear targeting specific genders (male and female) as physiological needs differ. This being the cornerstone, the Dunlop Mens Rapid Lite Trainers were developed targeting, as the name states, men who enjoy playing squash.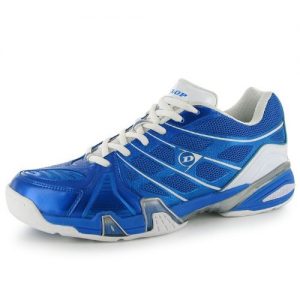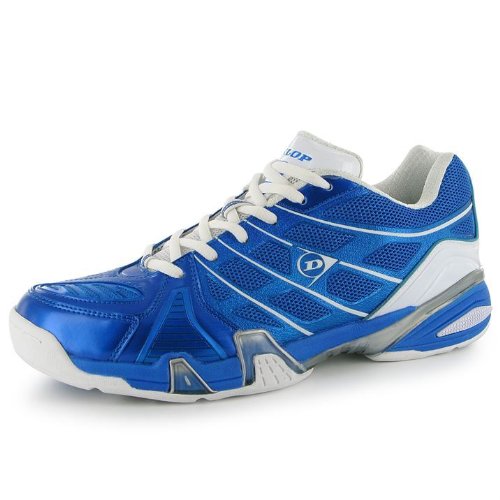 Equipped with a heat treated Ethylene-vinyl acetate (firmer foam rubber) midsole, the Dunlop Mens Rapid Lite Trainers have a firmer base. This firmer foam rubber differs from normal foam rubber by being firmer, less bouncy and provides solid turns while playing squash.
Spending a small fortune on deodorants and antibacterial sprays has been a general trend for all men who are athletes. This is mainly caused by our general extra perspiration when exercising. Reducing the odour associated with sweat can be a headache all-in-all. With this in mind, these shoes were equipped with what is referred to as an AEGIS Antimicrobial lining which has the sole purpose of reducing odour by fighting bacteria which are commonly found in shoes.
With Squash comes a general call for stability in-game. Years of training are required to hone a squash player's skill especially in line with having a solid base for stability. The sad part is that no human can be 100% stable. It is an athlete's dream to achieve perfection and through this knowledge, the Dunlop trainers include rubber outsoles for enhanced traction. These are also non-marking soles to ensure that no unsightly streaks are left on the squash court while you play the game you love.
Comfort is key when it comes to any athlete. Comfort allows for an athlete to focus on maximizing their skill in any given sport. Discomfort leads to distraction and where concentration is sparse, failure is always imminent. As though anticipating this to always be the case, the Dunlop Mens Rapid Lite Trainers contain an insole made from a Hi-polymer compound. This compound was developed with the purpose of providing comfort and ensuring the durability of the inner parts of the shoes.
To further increase durability, the shoes are made of a combination of textile and synthetic outer material. This ensures that the shoes last longer without the usual tearing of the sides of the shoes caused by constant stress from walking and running.
The shoes contain an area at the bottom of the heel specifically included to reduce dragging of the shoes. This is to reduce abrasion and high stress while playing squash. This also counteracts any slips that may occur while playing. This therefore doubles up as an anti-slip region.
Through a combination of both synthetic and textile materials, these shoes have a general feel of lightness while not skimping out on sturdiness. They fit smugly ensuring comfort and stability no matter the stress applied (reasonable amounts of stress) and comfort is a general theme with these shoes.
For any man looking for squash footwear which will reduce their dependence on third party shoe care anti-bacterial products, a sense of style, a knack for innovation and the passion for a gentleman's sport, then the Dunlop Mens Rapid Lite Trainers are the shoes to get. And as ever, Dunlop are making the best squash shoes on the market.
[amazon bestseller="squash shoes"]