Perhaps one of the oldest designs in the Spyderco arsenal, the Military knife is a very popular choice for those in the armed forces or any collector. We've always heard very positive things about this and decided to finally create this Spyderco Military review.
First off, let me just say, this is a big, bold and surprisingly lightweight knife. Spyderco have been one of the market leaders in tactical knives for countless years now and the Spyderco Military has seen unparalleled success and received unanimous universal acclaim for being one of the best designed and most reliable tactical knives on the market since its launch. The flagship of Spyderco's product line the Military is specifically designed for use in tough and demanding conditions including active military service. It has a beautiful, nicely curved ergonomic handle and large aggressively pointed blade.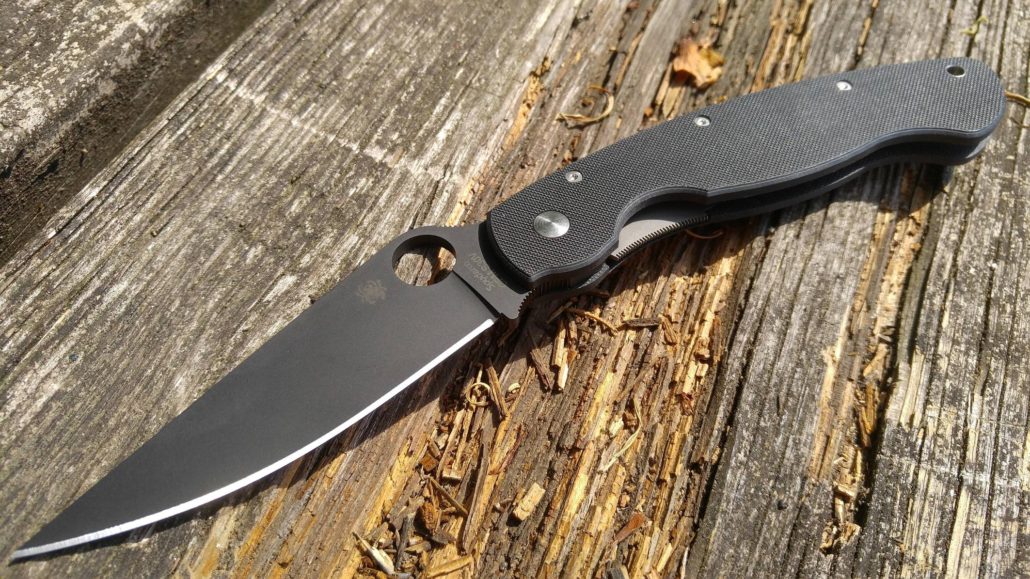 The handle is big enough to allow for a firm and sturdy grip regardless of your grip preference. Made entirely in the USA this knife is perfect for anyone looking for a great, durable, tactical blade that wont let them down. Available in a range of handle colours including digital camo and a black or steel blade this is the perfect blade for you if you spend a great deal of time outdoors or need to regularly open packaged during the course of your working day. As I said before, this is a big knife, with an overall length of 9.5 inches including a 4 inch blade with around a 3.7 inch edge this knife can handle pretty much whatever task you intend to throw at it. It handles slicing tasks like a dream and the aggressive point makes more delicate work easy and effortless.
The good, thick, long-lasting blade has great durability and if it's well maintained is bound to last you well for many years to come. Closed up it measures 4.5 inches making it suitable for EDC (Every Day Carry) purposes (although you may wish to check the laws regarding carrying a 4 inch blade in your area first). I really like the weight of this knife considering its size, at only 4.2 oz it will fit comfortably in your pocket without feeling bulky or cumbersome which is a real bonus and quite remarkable considering that a substantial amount of smaller knives often weigh in at around 4.8 oz. This is due to the handle design which features no excess metal making it much lighter than other large bladed knives in its category and makes it much more suitable for use during everyday tasks than its size would suggest.
The blade itself is made from an exceptionally high quality, high carbon CPM S30V which is probably the best blade steel available on the market at the moment, this steel is renowned for it's durability and superior edge-holding properties while being incredibly corrosion resistant resulting in a great long-lasting blade that is flat ground for maximum sharpness. Straight out of the box this knife is razor sharp and will stay that way through some good solid use. When you do eventually have to sharpen it the smooth curve of the leaf style blade and positive radius make doing so extremely easy and quick, with a decent set of diamond hones you'll be able to get the knife as good as new in no time. Additionally the long sweeping curve of the blade really helps when cutting tougher materials as the cutting force is always focussed on a small area of the blade's cutting edge resulting in a very smooth and easy cut.
This design is really excellent if you intend to use this blade to regularly cut through tough items such as rope, cord or other sturdy fabrics and makes doing so an absolute breeze, it really is amazing how a better blade design can actually make the knife feel that much sharper when in use. The textured G-10 scales on the handle provide superior grip and prevent the knife from slipping in your hand but isn't so aggressively rough that it will end up tearing up your pockets like some other G-10 handles. The large so-called 'Spyderhole' makes it incredibly easy to deploy the knife one handed even if you are wearing thick, heavy gloves or working in wet conditions which is a real bonus if you intend to use this knife outdoors in all conditions.
When you first get the knife it would be best to add a little lubricant to the folding mechanism if you desire a very smooth and quick opening flick for maximum efficiency in deployment. The blade of this knife is situated perfectly, dead centre in the handle and tight, no wiggling, making for a much sturdier and more reliable feel adding to the overall quality of the blade. The solid steel Walker LinerLock technology provides a superior and incredibly sturdy and reliable lock to the blade of the knife, probably more so than other locking mechanisms such as the access lock which has a tendency to feel a little less reliable when in use.
This gives you great peace of mind knowing that a mechanical failure isn't going to put you out of work with a hand injury, or worse. There is also a choil at the base of the blade which is a really great safety feature that will prevent the blade from injuring your hand or fingers in the unlikely event of the locking mechanism failing, it's always good to have a backup, just in-case. The gimping ridges on the top of the blade really make delicate and precision cutting tasks that much easier and more controlled. This is a really good feature if you intend to take this knife on camping or hunting trips where you may require a delicate motion for food preparation or butchery purposes. The blade is designed well for a standard or reverse grip allowing for maximum control and versatility during multiple different uses.
The black steel pocket clip on this thing is nice and sturdy, much better than some other clips that feel as though they're going to break after a weeks work, with the Spyderco Military when you clip it to your pocket it'll stay exactly where you want it allowing for much easier access. The large clip also provides a superior grip when using this knife in a reverse hold allowing you to safely exert more cutting pressure during tough slicing tasks. It should be noted however that this knife is designed specifically and only for a tip up, right handed carry which, in all honesty, is a far superior way to carry a large bladed knife such as this as it allows for a smoother, faster and easier deployment when required. If you intend to use this knife for military purposes you're definitely going to want to opt for the black blade and digital camouflage handle, the DLC (Diamond Like Carbon) coating is incredibly tough and resilient to damage and makes for a very discrete carry without sacrificing any performance. It's incredibly scratch resistant, during heavy use and doesn't appear to be taking any real wear or rubbing even after being used daily for several months, something which I honestly didn't expect.
In this Spyderco Military review, we found another great feature which is worth bearing in mind if you intend on using this knife during active service or in more extreme environments is its open spaced design. This means that if you are using the knife in sandy, dusty or muddy conditions any dirt or sand that gets caught in the handle can be easily cleaned out with little more than a can of compressed air. Keeping a clean and well maintained handle prevents dirt from damaging the folding mechanism of the knife resulting in a much higher durability and life-expectancy than those with a closed and therefore harder to clean design. It is easy to see why this knife has remained in production and more or less unchanged by Spyderco for longer than any of their other models, it's an absolute classic with a superb tough and durable design that really is timeless.
I would definitely recommend this knife for anybody who is looking for a knife for use during military service or for an avid outdoorsman, or anybody who is in need of an incredibly reliable, large bladed knife for work use or other day to day applications. This does make for a great EDC knife if you do regularly require one, however if you rarely find yourself in need of a knife then this is probably a little overkill. This is an absolute must if you are a serious knife collector as this is pretty much a piece of American made knife history with a stunning design and great functionality, no knife collection would be complete without it!
All in all this is a great knife whether you're a knife enthusiast or collector, simply somebody looking for a solid and durable tool for everyday use or even in the military where a well designed and reliable weapon could mean the difference between life and death. Buy this knife and you're bound to find out that the Spyderco Military's reputation as one of the best tactical knives available on the market today is well earned.