Pocket knives are an essential tool that not a lot of people know about. It is that one solid item that you can probably use in different situations in life. Not just for cutting or slicing, the pocket knife can be your trusted friend. But in order for a person to have that one true pocket knife friend, you will need to find the best. One such knife that claims to be the best that there is in the market is the Spyderco Tenacious knife, but can it be your trusted friend as well? Let's find out in this Spyderco Tenacious review.
Spyderco is a very popular brand that has earned the trust of people when it comes to their knives. Known for their quality, the mention of the brand Spyderco already conjures true craftsmanship among those who are familiar with the different knife manufacturers. Having such a popular name doesn't always mean a good thing as one false step and your reputation could go down the drain. Thankfully though, the Tenacious is one knife you can count on. Let's break it down to see what makes it such as special pocket knife.
A Closer Look at Spyderco Tenacious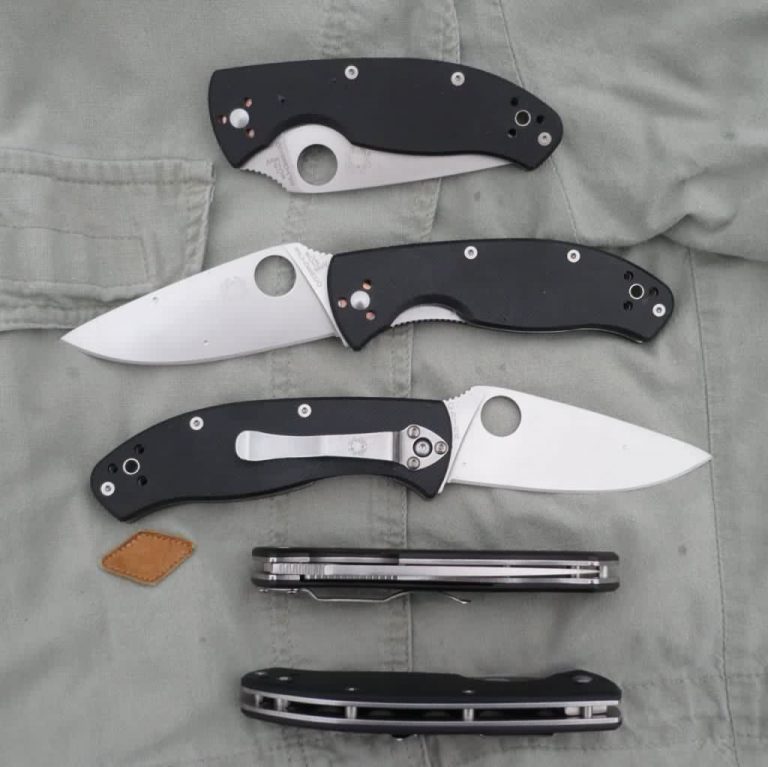 Just by looking at the pocket knife itself, you will be able to tell that it is a good product. It has a blade weight of just about 4.1 ounces, an overall length of 7.76 inches, a closed length of 4.45 inches, and a blade length of around 3.39 inches. The dimensions of the pocket knife alone should give you an idea of its size and how convenient it is as a pocket knife.
Looking only at its aesthetic appeal for now, Tenacious' blade style, the drop point, not only adds a certain sexiness to the blade, but also an edge to it, pun intended. It evokes a flair that is both feminine and masculine at the same time, making it a great item for both men and women alike.
Still just looking into how beautiful the knife is you will be able to tell that the handle is quite secure, which is honestly what a knife handle should be. This gives it both the security that one would seek in holding a knife, at the same time, not embarrassed at even the smallest of detail of this pocket knife.
Tenacious: The Blade Itself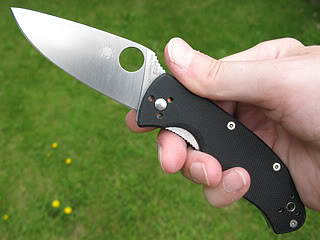 It is worth pointing out that the primary body that most people worry about a knife is the blade itself, and with good reason. This is because when the blade of the knife does not do the job, then the knife itself is of no use to anyone, therefore there is no point in keeping the knife. This is why the blade should stand out right from the start, sporting not only its edge, but also finer details that can help you out in different situations.
This brings us to the Tenacious' blade. Its blade has a length of 3.39 inches and a thickness of 0.118 inches; that would be approximately 3 millimeters. While these dimensions of the knife's blade do not seem too impressive, for this pocket knife it does the job, and it does the job well. Yes the dimensions may seem like the knife's blade is small, but in actuality, it is quite big especially for its size.
What's good about its blade is its design, the drop point. The drop point design is when the knife's blade subtly slopes its spine right from the handle and down to the tip.
Aesthetics of the design aside, you should know that this blade design is one of the most practical, if not the most practical of all knife blade designs. The drop point design of the blade is known for being very versatile, additionally, it is also known for being the most useful design when it comes to surviving in the wilderness. The drop point design of the knife also means that the tip of the knife is sharp and is perfect for different tasks such as stabbing, carving, notching, and what have you. You will also find that the design of the blade makes it a lot easier to control it, making each movement precise.
Once you are in the wilderness and you are forced to use the Tenacious, you will be glad that it doesn't have that serrated blade that some knives tend to have. Serrated blades are all well and good, until you have to sharpen them. Since the blade's design is that only of a simple drop point, you won't have trouble sharpening it. And if you are a person who will use the Tenacious for quite a bit, you will find that you will only have to sharpen it once and it will last you for months without further sharpening.
When it comes the material that the blade was made from, the steel of the blade is known as 8Cr13MoV. While this will not ring any bells for the laymen, the gist of this stainless steel is that it is of great quality but this does mean that some of the cost was cut here. Sure, it's not the top of the line steel that you can find in other more expensive knives, but it will certainly do the job. The only downside to the steel of the blade is that it can rust, but if you clean it regularly or after use, you will find that the steel itself will virtually be rust-free.
Tenacious: The Lock
Pocket knives are great for just pulling it out of your pocket and unlocking the blade in one swift movement. The Spyderco Tenacious, though, went for a thumb-hole for you to open it. Yes, this does seem a bit more "manual" for some people who would prefer their knives to swish open quickly, but there are perks to having to snap the blade free. The good thing about having to use the thumb hole to open the blade is that you won't find yourself in some accident wherein you cut yourself or someone else. The downside to this however is that for those who are not used to a thumb-hole opener might find the small task a bit trivial, but in all honesty it is just a small matter and just takes a second to free the blade – not that big of a deal. Once you get the hang of using the thumb hole, you will really come to like its safety and practicality.
When it comes to locking the blade in place, you will find that the liner lock really does its job well and you won't really have to worry about the blade coming forward on you. The liner lock snaps into place and you are good and secure. You will also find that the liner lock itself is textured so you can at least have a bit more control with it.
 Tenacious: The Handle
Some knife manufacturers complicate the handles of the knives too much, adding some features that some people do not really use or worse: lowers the quality of the overall knife.
It's good to know that the Tenacious' handle is good and clean. There is something to be said about a handle that looks and feels simple. Sometimes, the best way to go about something is to keep it plain, and that is what Spyderco did with Tenacious' handle.
Right when have the knife in your hand you will be able to tell that the handle is of good quality, this is because the handle itself is made out of G-10 laminate, making it not only strong, but light. It won't be like other knife handles which tend to be so heavy that it becomes too bothersome to be an actual pocket knife. Because of its size (when the blade is closed), you will find that it fits very well in your hands and that the handle makes it ultra comfortable to hold.
The jimping, or the notches which you may find on the handle, permits you to hold the knife easily and securely. You will really be able to wield this pocket knife without the fear of it slipping through your hand or having it flying away when you hit something. Jimping is something that not many people notice, but when you do get your hand around its handle, you will be happy that the notches are there.
Another thing that you will immediately notice on the Tenacious' handle is the pocket clip which has four ways of extending it, giving you more options of how you want it to be in your pocket. The very simple pocket clip allows for people to bring it out quickly while at the same time, not having to worry that the knife will fall out of their pockets, which is actually important because it is a pocket knife to begin with.
If there was any downside on this knife's handle, it would be that it can be just a little too big for some people. While the knife itself does not really fall into the category of the really small pocket knives, the thumb hole makes the knife, along with the handle, eat more space in your hand. But again, its size should not diminish the fact that it is quite easy to handle and that it fits comfortably in one's pocket and hand.
Tenacious: The Verdict
Spyderco Tenacious is really a good and solid pocket knife to have. There are a lot of good points about this knife and not that many bad ones.
Starting out with the blade, you will really enjoy the drop point design. I can go on and on about how great the design is, but once you do experience it you too will be thankful of how great and practical it is. The blade itself is not small but it's not that big either, it's just the right size for anyone who is looking for a starter pocket knife or just a good one. Its blade really does well for the kind of steel it has, 8Cr13MoV. Knife experts all know that this type of material means that Spyderco is cutting back its cost on the blade itself and that the material is not top quality, but that doesn't mean that you won't be able to do great things with it. In fact, you can really rely on its blade.
Moving on to the lock, the thumb hole is really something that stands out with this knife. This is because the thumb hole really isn't everyone's cup of tea. But once you do give it a whirl, you will find that it's not that different from the pocket knives which have their blades automatically pop out. It may take a bit of getting used to, but it's not really a deal breaker. The liner lock though is really something to focus on. Not everyone will appreciate it as most people will only look at a knife for its blade, but the lock is good and sturdy, so you won't be worried about the blade going anywhere once it is pulled out.
Last but not the least is the handle which is good, clean, and classic. While there are knives out there which puts on extra bells and whistles on the handle, the handle of the Tenacious is great as it sticks to what handles are for, for proper holding. You will really enjoy holding the knife what with its jimping and its overall size, while a bit bigger than most pocket knives, it can sit comfortably in your hand. Probably the cherry on top of the ice cream sundae would be the simple but practical pocket clip which has four ways to it, which is super useful because you won't have to worry about your pocket knife going anywhere.
Yes, there are some negatives to this pocket knife, but when you look at the overall picture you will realize that it's that kind of knife that you can trust. With the overall design of the knife being well thought out and simple, you will really love the Spyderco Tenacious knife.
Rating: 9.8
PROS
Very cheap
Brilliant lockup
Strong design
Awesome spydie thumb hole
Stays sharp
Perfect jimping
Lovely feel
CONS