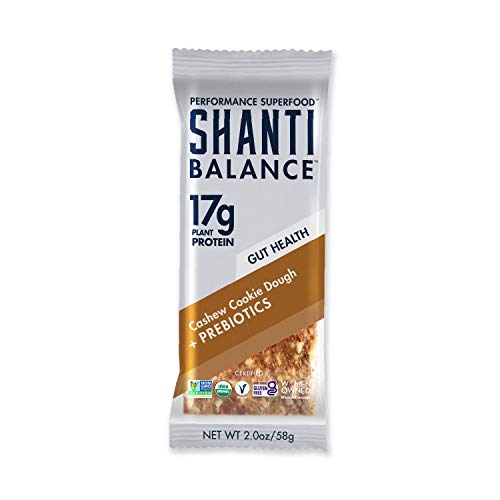 SHANTI BALANCE | Gut Health Cashew Cookie Dough | 17G Plant Based Protein | Organic Gluten Free Superfood | Immunity Boosting | Performance Nutrition | 12 Count, 2 oz Bars

Price: $28.99
(as of Dec 06,2021 18:41:04 UTC – Details)


Who? Hi, it's us, SHANTI BALANCE. Our two founders, professional chefs and fitness devotees, Lauren and Ashanty, crafted SHANTI BALANCE because they could not find a single "health" bar that lived up to their own high standards of delicious taste made from only super clean, functional ingredients.
What? Cashew Cookie Dough + Prebiotics delivers Nutty, Creamy, Chewy with rewarding Mini Chocolate Chips found in every bite. Soft and chewy with whole food inclusions for an irresistible chew you are going to want to seek your teeth into. Change bad habits to delicious habits. Satisfy hunger cravings with our clean plant protein and No-Bloat fiber.
When? Great for breakfast, lunch, pre/post workout or as a snack on-the-go. This is the bar you will want with you to enjoy as is, in your smoothie bowl or as a topper to your morning oatmeal.
Where? SHANTI BALANCE bars are made in small batches by US here in Sunny Miami, Florida. In case you haven't heard, we are that protein bar company that's certified everything good under the sun. We make 'em. You eat 'em. Organic, Gluten-Free, Vegan, 100% Plant Based, Non-GMO, Kosher and proudly Women-Owned!
Why? From the yoga wellness guru to the battle tested tri-athlete, we are here to serve you! HEALTHY GUT, HEALTHY LIFE. Our Prebiotics feed the healthy probiotics in your gut. Improve your digestion and reduce that bloat. Trust your Gut and get snackin' on Plant Protein, Not Sugar with a Cashew Cookie Dough + Prebiotics bar today!