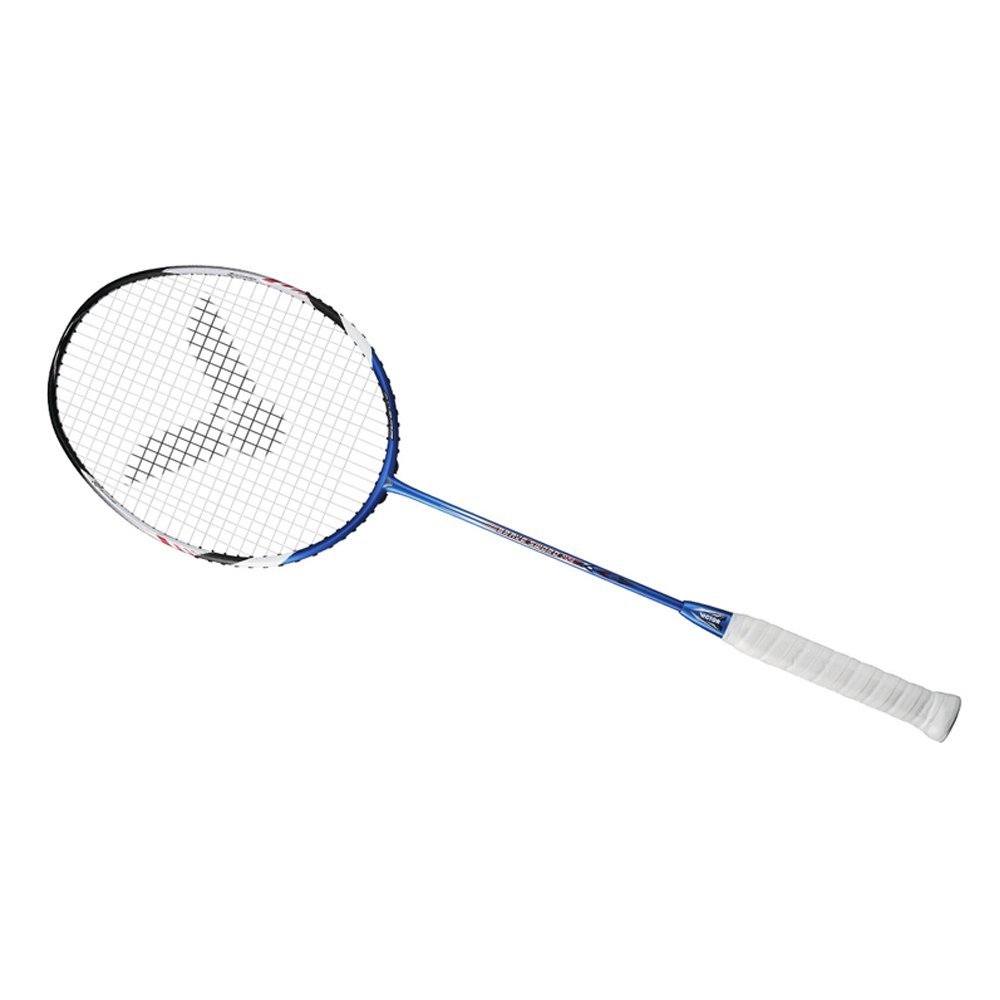 Victor Brave Sword 12 Review
It isn't surprising that the professional players in the world use the Victor Brave Sword as their choice of racket. Could this be the ultimate racket in the world of badminton? Or, was it perhaps that these players were receiving highly customized versions? In this review will find out whether the Victor Brave Sword 12 lives up to its reputation or if it is another overpriced piece of kit.
If you choose to buy this racket from Amazon, the racket will come with a full length red cover. It's quite a nice graphic and it seems to be very good quality-which is something you should always look out for. The racket has an attractive graphic which is black, red and grey. Obviously, the appearance of the racket will not change your play style or your performance levels, but it is nice to have a good looking racket in your arsenal. According to the Victor Brave Sword flexibility scale, it ranks as a medium performance which is supposed to have a medium and even balance.
The weight is around 90 g which is pretty standard. Many high-end badminton rackets will arrive unstrung, which could actually be a good thing for players that like to play with a high tension. The retailer will string this if you desire at a customary 23 lbs. However, if you don't want to mess around with string tensions then this may be quite awkward you.
PROS
The first thing to notice about this racket is, that how evenly balanced it is. An evenly balanced badminton racket is great for casual play, since it ticks all the boxes and is great at many things. This racket has a lot more to show.
The frame of the racket is very strong and flexible, it is also quite aerodynamic and can cut through the air at a great speed thus giving you some powerful shots and with very little drag. It is very easy to use and is a racket that I could play with hours on end and never feel tired. It really cuts through the air at some speed and is quite elegant. I doubt you'd ever strain yourself with this racket.
If you're a player that enjoys hitting drop shots, then this racket may be the perfect choice for you. I found the drop shots to be easily hit from the back of the court. Some of the shots I were hitting were delicately crisp and I really hit some excellent slices. After a few fast rallies, I realized how useful frame is and how great it is like hitting the palace. In some matches in the past, I've struggled with long rallies as they can become very tiresome, especially with a heavy racket. However, this racket is the opposite and is a complete joy to use for hours on end.
Like I mentioned earlier, the aerodynamics of this racket make it very easy to use for anyone thus making it excellent in defense. It really is quite impressive at how well at defense it is and still packs a good punch when you need it. Due to the air resistance, or lack of, power play in game is incredibly easy. The racket is fast and smooth, cutting through the air at serious speed. I really enjoyed using this racket at all parts of the court.
CONS
It's really hard to fault this beautiful racket. I've finally understood why a lot of the professionals use it. The price tag is a little hefty for some people. I sometimes wonder why Victor don't offer more of a selection to their range. Perhaps in the future?
CONCLUSION
I'm surprised at how good this racket is. It completely proves why so many professional players use this racket and continue to do so. It's great for intermediate players who like to play casually or even players competing in tournaments. It would be an excellent racket choice for any skill level.
It is quite expensive, so if you're on a tight budget this may not be the racket you. However, if you have some money to spend and are looking to completely up your game in all areas of the court, then this would be an excellent choice of badminton racket.