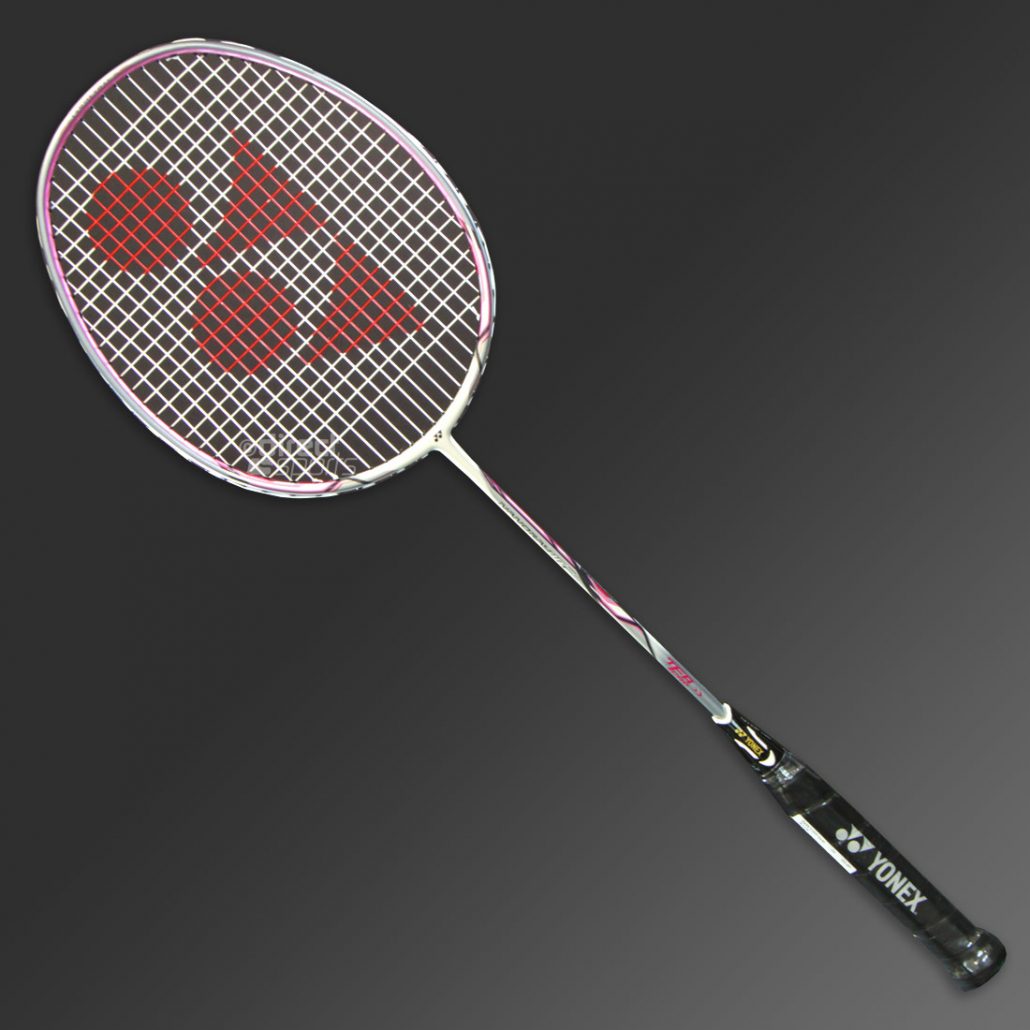 Yonex Nanoray 10F Racket Review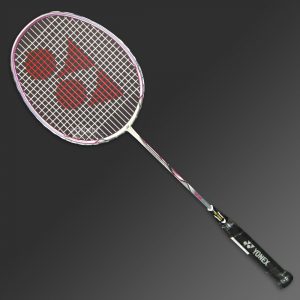 Yonex have been making top notch badminton rackets for a long time. The Nanoray 10F is perhaps one of the most common rackets for players. It has a light head which comes pre-strung, which is what the majority of players want – unless you're turning pro. The frame is made of graphite which is 27 inches in length. Amazon delivers this product with a ¾ cover that fits the design nicely. In the past, Yonex have been criticized for creating ugly designs. However, I feel like that they have turned it around with a nice blue simple design.
PROS
At a first glance, the length will be fantastic for most new players – it really has an excellent reach. It is extremely lightweight (weighing less than 90 grams) paired with some serious power.
After some rigorous testing (mostly playing) we found this racket to be the ultimate beginner racket and even great for experienced players who are on a tight budget. It comes in at a very cost effective price that is impossible to argue with. Many of our users even bought two of these, incase of strings snapping.
You'll most likely find that the racket has a brilliant sweet spot, for anyone wanting to hit the smashes. As long as your technique for smashing is of an adequate standard, smashing with this racket will be of ease. The frame is flexible but tough, which will last the normal player many years to come.
CONS
There is really very little to fault with this gem of a racket. If you're wanting to generate some serious power on your shots or take your badminton to a top level, then perhaps this racket isn't for you. Try the Arcsaber or Voltric 80. But, if you're a beginner or simply enjoy a game of badminton, then this racket is for you.
Defensively speaking, you might have a few problems. It's considerably slower than the higher end rackets, as you most probably expect. You might feel a little drag, but it shouldn't be too much of a problem for most considering how lightweight the racket is.
You might also find that the grip wears down have a lot of play. The grips on the cheaper rackets aren't a great quality. Some of our users reporting thinning of the grip after a few months. Again however, it's hard to complain since the price is so cheap.
CONCLUSION
Yet again, Yonex continue to impress with their extensive range. This racket will not disappoint the average player; it's light, strong, durable, versatile and aesthetically pleasing. The color won't change your play style or performance, but it's always pleasant having a nice looking racket.
Chances are, most players will come across this gem at some point and there's plenty of reasons why. You'll be able to hit some beautiful shots with this thing and who doesn't want that?
Here at Sport Briefing, we love this racket and it will always be the one we recommend to new players entering the sport.
Yonex Nanoray 10F badminton racket review
Yonex, the renowned manufacturer of durable rackets, keeps on expanding its rackets brand. With great consistency and ingenuity, it keeps delivering first-class rackets to the market. This Yonex Nanoray 10F badminton racket is one of the leading rackets from the stables of Yonex.
Are you a beginner player who has soft spots for an excellent badminton racket that is durable for more in-depth, faster & clearer shots? Then, the Yonex Nanoray 10F badminton racket will be the choicest racket for you.
There is an assurance of high performance using this racket, most especially if you are a player looking for clearer shots, stability and speed regardless of the price.
Yonex Nanoray 10F badminton racket comes with unique features. These features will make your game enjoyable as you look forward to showcasing brilliant performance against your opponents. Click here and start playing Badminton
Technical Details
The Yonex Nanoray 10F badminton racket is one of the best rackets for beginners. Manufactured by the famous Japanese badminton manufacturer, Yonex. It showcases innovative features that are closely attributed to the Yonex Nanoray 10 badminton racket, another racket for beginners in the Yonex Nanoray series.
The Yonex Nanoray 10F is tailor-made for beginners, and this is revealed in its design. The weight classification is 4U, which means that the racket has an average weight of 83 grams.
The grip size is between G4 & G5, and this grip size should give no hard time when you want to hold the racket. The grip type and weight are similar to most of the rackets produced by Yonex.
Yonex Nanoray 10F features a Head Light Balance, that is, the head and frame have not much mass that facilitates natural swinging and manipulation.
The Yonex Nanoray 10F comes in already pre-strung. More so, it is advised that the racket is strung between 19-24lbs when you are replacing the string later in the future.
About the shaft, the badminton racket features a flexible shaft, making it possible for beginners who are just learning the badminton to use comfortably.
The badminton racket also comes in colors black/red & black/blue combinations. Aside from the Nanomesh and carbon Nanotube inserted into its frame and shaft, Yonex Nanoray 10F also features a TFA CAP that absorbs unwanted vibrations and enables powerful shots with comfort.
Pros
The Yonex Nanoray 10F has lots of exciting features that serve an advantage. The advantages include:
Unique Construction:
The type of construction material used in manufacturing a badminton racket goes a long way in determining its performance. Yonex Nanoray 10F badminton racket is crafted with unique and high-quality material.
Lightweight:
The Yonex Nanoray 10F is a lightweight. This makes it very easy to swing without exerting too much effort. With this racket, you will never complain of any wrist pain which often accompanies using the heavier racket.
Maximum comfort:
If you are the type that loves to enjoy maximum comfort when playing with your racket, the Yonex Nanoray 10F should be the first on your list. This is because the badminton racket comes with a TFA CAP that absorbs unwanted vibrations.
Easy to Use:
The Yonex Nanoray 10F is very easy to use just as the Nanoray 10. Yonex designed this racket with beginners in mind. You won't need to spend several days before you master this racket. Despite this benefit, the Yonex Nanoray 10F does not compromise for performance.
Does not Wobble:
Many lightweight rackets used to suffer from wobbling, and this occurs as a result of lack of stability. This is not going to be a problem with Yonex Nanoray 10F, the frame and shaft are designed in such a way that it enjoys maximum durability and will not distort your shot accuracy.
Cons
Below are some of the obvious pitfalls of Yonex Nanoray 10F badminton racket.
Inappropriate for professional players:
For beginners, the racket is unseemly for them. Yonex Nanoray 10F doesn't feature high-end technicalities that are appropriate for experienced players. Hence, the racket is mainly recommended for beginner players.
Can't Produce Powerful Smashes:
The Yonex Nanoray 10F is not for players that enjoy smashing the shuttle. The head-light balance of this racket makes it to compromised power. You will have to consider other rackets if you want powerful smashes.
Feature & Benefits
Yonex Nanoray 10F is crafted with fantastic technology that makes it durable for badminton players. The implementation of these latest technologies in manufacturing the badminton racket enables players to perform excellently. Some of these unique features include:
Isometric head shape
Yonex Nanoray 10F badminton racket features an isometric head shape. The head shape creates a larger sweet spot in all directions and hence makes it easier for you to improve your accuracy and powerful shots. This isometric head shape structure is better compared to the oval-shaped head.
Nanomesh + Carbon Nanotube
The Yonex Nanoray 10F comes with the Nanomesh and carbon Nanotube incorporated within its frame and shaft, this feature gives the frame and shaft the ability to resist the impact of the shuttle better and gives you more repulsion power.
Aero-frame head construction
Yonex Nanoray 10F features an aerodynamic frame head construction which cuts through the air. The contouring at the top head frame reduces air resistance and allow you to cut through the air without difficulty. With every single hit, you will achieve more speed and power.
TFA CAP
Yonex Nanoray 10F badminton racket features a TFA CAP that distinguishes it from the Yonex Nanoray 10. This feature provides extra shaft flex to accelerate frame recovery after impact. More so, it absorbs unwanted vibration to offer maximum comfort on your thumb.
X-Fullerene Shaft The implementation of X-Fullerene in the racket entirely creates greater repulsion power, strengthens binding force, and increases stiffness remarkably.  With the incorporation of X-Fullerene, the shaft of Yonex Nanoray 10F delivers high repulsion performance and lightning fast shot-making into the opponent's court.
Conclusion
This badminton racket is tailor-made for beginners who desire a racket that will give them an improved performance on the court and at the same time be budget-friendly.
With a head-light balance and TFA CAP which makes it very easy to swing and comfortable, Yonex Nanoray 10F should be on the top of your list.
Therefore, if you value the features that come with this badminton racket, you should consider going for it.
Yonex Nanoray 10F Review
Feeling strong and durable yet light in players' hands, the Yonex Nanoray 10F badminton racket is a great badminton racket for beginners. At an affordable price also, this badminton racket has enough capability to keep you entertained as you grow and learn more about the wonderful game of badminton.
The Frame
The Yonex Nanoray 10F had a head made from graphite making the striking surface and general frame of this badminton racket lightweight. The name Nanoray referes to the shaft construction. The shaft of all of the Nanoray series is constructed out of a mix of graphite, nanomesh, and carbon nanotube.
One interesting thing to note about the Yonex Nanoray 10F is that the thickness of the frame varies around the head. Yonex specifically designed the Nanoray series to have a thinner top of the frame in order to minimize air resistance. To players, that means that you can swing through shots with a greater head speed without a lot of force!
The bottom of the head is actually thicker than the rest of the Nanoray frame. This helps the racket as a whole by creating greater frame stiffness and giving you the maximum amount of power from this frame.
With all this talk about the thickness of the frame, you might think the Nanoray 10F would be really stiff. And you couldn't be more wrong! The Nanoray 10F actually is rated as a hi-flex frame. This helps it absorb the impact from hitting the shuttlecock during games.
Weight and Balance
To go along with the excellently designed frame, the Yonex Nanoray 10F weighs in a light 80 – 85 grams putting it in the 4U weight class. Holding and playing with this racket in your hands feels amazing. It's light as you swing it and yet the specially designed frame allows you to generate so much power.
The weight is placed along the racket creating a head light balance. For players, this means the control of this badminton racket is in your wrist allowing you to easily get the head in position to make excellent players.
Head light is a common balance for badminton rackets and one I often recommend to beginners just starting to play.
It's perhaps one of the most natural weight distributions and I know that most beginner players tend to do better with rackets like the Nanoray 10F that are head light.
Length, Strings and Extras
This racket comes in at 27 inches long which gives you plenty of length in order to reach for that hard shot and smack it back over the net.
The Yonex Nanoray 10F also comes pre strung when buying from Amazon. The tension is set between 19 – 21 lbs for each racket.
The grip size of this racket is a G5 and here is one instance where I believe the Nanoray falls a bit short. Some of our testers noticed that the grip was slightly substandard and tended to wear quickly. What's that mean to you?
Well if you're only planning to play with this racket for a couple of months, don't worry about it. However, if you like badminton rackets with a great grip, I would recommend you get a badminton overgrip.
They are very similar to tennis overgrips except specially designed for badminton rackets. Most badminton overgrips hover around $5 and you can grab them when you buy the Nanoray 10F.
As an added bonus when buying from Amazon, this racket also comes with a small case! This makes it easy to protect when you're not using it or when taking it outdoors.
Nanoray 10 vs Nanoray 10F
Now, many people have a common question: what's the difference between the Yonex Nanoray 10 and the 10F versions?
According to some people, the 10F has a shock absorbing cap where your thumb rests. This is supposed to minimize vibrations and increase power.
Here's my opinions: There's no difference! I've held both rackets in my hand and felt absolutely no difference between them. On every major website that sells them, the specifications are both the same.
One thing that did come up during my research is that the Nanoray 10F is more popular than the Nanora y 10. Now I'm not trying to make your choice for you. You decide. But when, by all accounts, they're the exactly same badminton racket? Toss a coin and choose!
Yonex Nanoray: Who Should Buy?
The combination of price point, frame, and weight make this decision easy. People just getting into the sport of badminton and beginners would be best served by playing with the Nanoray 10F. At an affordable price, this badminton racket can be picked up today without breaking the bank!
Particularly for beginners, the combination of light weight frame and large sweetspot make this badminton racket a must have if you're looking to improve your badminton technique overall.
You'll be hitting strokes over the net and smashing shuttlecocks in no time with this badminton racket for beginners.